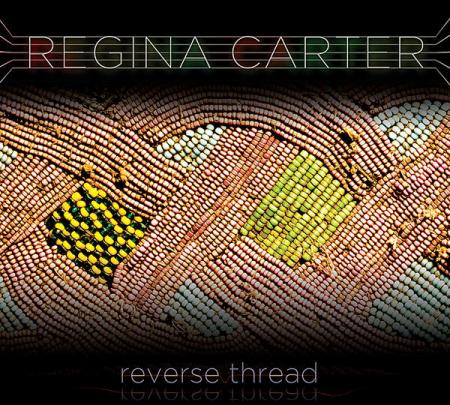 Song
Full Time by Regina Carter
Back story
Regina Carter is an extraordinary jazz violinist whose most recent release, Reverse Thread, is a collection of re-imagined African folks songs. She received a 'Genius Grant' from the MacArthur Foundation in 2006, and this gave her the financial freedom to research and record this effort over the past few years. The wait was worth it, as this is one of the best jazz releases of 2010 thus far.
Why this song
Full Time features a melodic, syncopated bass-line, against-the-beat Kora sounding a bit like a rhythm guitar, funky drumbeat, and Regina's vibrant, warm-toned violin. It is a propulsive number based on a celebratory folks song. Though technically difficult, she plays with an emphasis on fun and expression, rather than just showing off her amazing chops. It's an exciting and joyful song, and is a good starting point for Reverse Thread.
More info
All About Jazz
All Music
Check it out

Buy it


Amazon

Copyright secured by Digiprove © 2011
Meshell Ndegeocello returned to Seattle last night to present a set of Gil Scott-Heron material, only 8 months after her last appearance at the Triple Door. She was touring with the same band, with the exception of Keefus Ciancia on keyboards, whose absence was striking. With just bass, drums, and guitar for instrumentation, the songs were given room to breathe, and were more rock and roll than I previously thought.
She appeared confident and comfortable, and was eager(!) to talk in between songs, explaining why each song mattered to her. She was engaging and often funny. The band was in top form, too, and served the material well. Highlights included a very funky take on Who'll Pay Reparations on My Soul?, an updated The Revolution Will Not be Televised (including pointed lyrics about Sarah Palin and President Obama – "frankly, he's not that revolutionary"), an extended instrumental ending to Lola, and a short acoustic set featuring just her vocals and guitar on Grace and Beautiful.
As usual, she surprised and challenged the listeners, and provided yet another glimpse into her incredible musical world. If you are able to catch any remaining dates on this tour, I highly recommend doing so, as "The revolution will not be televised…the revolution is gonna be live."
Set list
Gil's music:
Where Did the Night Go
The Bottle
Whitey on the Moon
Who'll Pay Reparations on My Soul?
Cannon Fodder (a song by Eugene McDaniels)
Peace Go With You, Brother (instrumental set to a taped lecture of Dr. Cornel West)
Free Will
Home is Where the Hatred is
The Revolution Will Not be Televised
Meshell's music:
Die Young
Love You Down
Lola
Grace
Beautiful
Faithful
White Girl
Outside Your Door (encore)
Buy it
Meshell's music available at Amazon


Copyright secured by Digiprove © 2010